Missouri Music Festivals
Arcadia Valley Mountain Music Festivals


Come for the Experience!




We are conveniently located in the heart of the St. Francois Mountain range of the Ozark Plateau.                With the highest mountains in Missouri, we are only 80 miles from the hustle and bustle of the city          of St. Louis.  Let our country roads take you home to a place you belong.  We are proud to be the Outdoor Recreation Capital of Missouri . . . But, that's not all we have to offer vacationers looking for a unique, scenic and historic experience.
Travel to our region of Missouri and find a wide variety of Missouri lodging and accommodations and Missouri Campgrounds. You'll find charming antique shops, fine restaurants, annual events and music festivals, live entertainment and a unique and fascinating history.  Many travel to our region to see the Missouri historic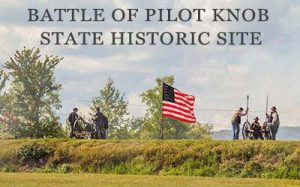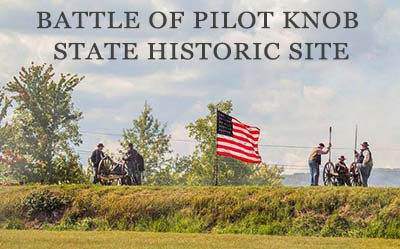 towns, villages and landmarks.  Visit Battle of Pilot Knob State Historic Site, scene of the Civil War Battle of Pilot Knob.  Spend a day at Missouri Wineries nearby.  Our region is filled with picturesque architecture, scenic vistas and natural geologic wonders found nowhere else on earth.
Visit the most beautiful Missouri State Parks – Johnson's Shut-ins, Taum Sauk Mountain (Missouri's highest point), Elephant Rocks State Park, Battle of Pilot Knob State Historic Site and the Ozark Trail are all right here for you to enjoy.
Enjoy exploring Missouri History 
Visit historic Missouri towns and landmarks in our region and take our tour of the the Civil War in Missouri.  Learn about the Native American Indians who were here when the first Europeans arrived. Read about the earliest Missouri settlements and the triumphs and hardships the earliest settlers faced.  Our region is filled with landmarks and bridges to the past for you to visit.  Come to our region for a Missouri History Vacation!  Make plans now to join us for Missouri Civil War reenactments, events and tours. 
Missouri Events, Festivals, Entertainment in the region 
There's always something going on in our region the whole family can enjoy. During the summer season, enjoy outdoor concerts and music festivals or at one of our fine venues in the region.  Come for our BBQ Battle, 4th of July Fireworks Display or Christmas Festival in addition to the Arcadia Valley Mountain Music Festivals in May and October.  Learn about the Reenactment of the Battle of Pilot Knob held at Fort Davidson State Historic Site. 
Missouri Genealogy Iron and Reynolds County 
If you're from our region, take a Missouri Family History Vacation while you're here!  For those of you researching your family history in Iron County, Missouri and Reynolds County, Missouri, it can often be very challenging. See the genealogy information, resources and links provided here.  We hope it will make things easier for you. We attempt to clarify some of the issues that even the most enthusiastic genealogist may face when researching family history in our Arcadia Valley Region.
See how incredible our region is!  Watch our videos about all the things to see and do while attending the Mountain Music Festivals!
Visit our beautiful Missouri Region – "The Outdoor Recreation Capital of Missouri!"