Ozark Mountain Harmony

The Punches

Po'Anna

Whitewater Bluegrass of Missouri

Dixie Union

Justin & Julia Dill of Sweetwater Holler
2021 Spring Mountain Music Festival
Join us for our Arcadia Valley Mountain Music Festival held every May and October!  We are conveniently located only 80 miles from St. Louis in the outdoor recreation capital of Missouri's beautiful Arcadia Valley.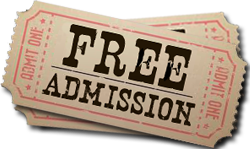 Admission is FREE for these wonderful family events!  Activities center around the historic Iron County Courthouse Square on Main Street in Ironton.
You'll find a variety of Music, Music, Music everywhere you turn!   Be sure to make your lodging reservations early! Check out camping opportunities as well.  
So, if you're looking for Missouri bluegrass festivals and old time mountain and Americana music, make your plans now to attend our Arcadia Valley Mountain Music Festivals this year.
This year's Spring Mountain Music Festival features two great days of music. We are also adding different genres of music which will include street dances on Friday and Saturday evenings.

Both in Spring and Fall you'll enjoy Vendors, Crafters and activities for the kids!  There'll be an area set up for pickers, so be sure to bring your instruments! 
Come and experience the best Spring Music Festival in Missouri!
Friday Night – May 21st
 6:00 PM Pickers at the Gazebo & around the Courthouse Square                                                                   8:00 – 10:00 PM  Street Dance with music by "Dave Black Band"
Saturday – May 22nd
10:00 AM – Ozark Mountain Harmony                                                                                                                Noon – Po'Anna                                                                                                                                                  2:00 PM – Whitewater Bluegrass of Missouri                                                                                                      4:00 PM – Dixie Union                                                                                                                                      6:00 PM – Justin & Julia Dill of Sweetwater Holler                                                                                          8:00 – 10:00 PM  Street Dance with music by "The Punches 50's Show"
---
Check out our . . . Food and craft vendors and artisan demontrators.  Plus our Family Fun Area for kids and a "Special area for "Pickers".
2021 Spring Festival Music Groups
DAVE BLACK BAND
Dave Black from Bonne Terre, has been a musician most of his life and plays the piano.  He and band member, Doug Berry, have played music together for over 30 years.  Doug sings and plays the keyboard.  The other member of their group, Keith Barton, plays the steel guitar.  The group plays in churches throughout the area and Dave has been the opening performance for many well known musicians, i.e., T. G. Sheppard, Daryle Singletary, the Bellamy Brothers, Brad Paisley, Kenny Rogers, Shenandoah and more.  The group plays a large variety of music which includes country, gospel and 50's.
OZARK MOUNTAIN HARMONY
Ozark Mountain Harmony is a bluegrass gospel group that is based out of Fredericktown, Missouri. The group was formed in 2014 as "Southern Grass" and over time we changed the name and welcomed new members to our group. Our mission is to spread the word of God to everyone we meet, whether that be through the music we sing or the conversations we have.
Our group includes, Shannon Cox – Lead Guitar & Vocals, David Hovis – Mandolin & Vocals, Erica Hovis – Vocals, Lisa Crocker – Vocals, Brad Crocker – Bass & Vocals, Jim Randolph – Dobro, Steve Cox – Banjo, and Machele Tyndall – Rhythm Guitar.
PO' ANNA BLUEGRASS BAND
Emalee Flatness is a founding member of the Po' Anna Bluegrass Band and started playing bluegrass at age ten. She loves playing fiddle and singing lead and harmony. She has written several original songs. Becca Ash comes from a long line of bluegrass musicians and continues the tradition through her fantastic musicianship. She plays the mandolin along with singing lead and harmony. She also plays nearly every bluegrass instrument. 
Justus Ross started playing guitar at age six. He plays lead guitar in addition to singing lead. He also plays with his family band, The Ross Family. Joey Shann has been picking banjo since the age of 14 and also plays the dobro. He sings both harmonies and lead for Po' Anna as well as performing with The Baker Family.
WHITEWATER BLUEGRASS OF MISSOURI
The Whitewater Bluegrass Band of Missouri is an upbeat, toe tapping, bluegrass band.  They are made up of members from the Jackson MO area, which includes George Dickerson on banjo, Rodney Eftink on mandolin, Dan Reno on lead guitar, Kevin Sigman on rhythm guitar and Shawn Asmus playing bass.  The band is in their 13th year and have performed at numerous area and local events.
DIXIE UNION
Dixie Union is an award-winning band that was originally formed in 1998 to provide a unique blend of traditional and innovative bluegrass, gospel, blues, ballads, crossover country, and even an occasional polka!  Members of the group include band leader and charter member Dave Richardson on mandolin, tenor harmony, and lead vocals; Carol Richardson on rhythm guitar and lead vocals; John Francis on banjo, lead vocals, and baritone/bass harmonies; and Peter Price on upright bass and baritone harmony.
The Richardsons' fresh spin on interpretation, shaded by Francis' traditional grounding and Price's driving bass, gives the group a sound unique in the bluegrass world. Known for their two, three, and four part harmonies, blend of old and new, and zany on-stage antics, Dixie Union promises to entertain bluegrass fans of all ages.  Dixie Union's music is available on Spotify, iTunes, Amazon, and more. More information can be found on https://facebook.com/dixieunion.  The group has opened for or shared the stage with such groups as the Nitty Gritty Dirt Band, Ralph Stanley, Kenny & Amanda Smith, and the Chapmans. 
JUSTIN & JULIA DILL OF SWEETWATER HOLLER
Justin and Julia Dill have been playing music together since meeting in 2006. They cover rock, blues, country, and bluegrass favorites with rich vocals, smooth harmonies, and dynamic musicianship on guitar, fiddle, and harmonica. The husband and wife duo founded Sweetwater Holler in 2010 and also performed in the bluegrass band Open Range and country and southern-rock band Smokey Lonesome with platinum award-winning singer songwriter Curtis Lance. In 2013, Justin and Julia were featured on the Chevy Music Showcase with Smokey Lonesome. In 2020, Sweetwater Holler was a featured band at the State Capitol's annual Salute to America celebration.
Fiddle and guitar player Justin Dill, has been playing music since the age of ten and began singing as a teenager. At fifteen, he was the youngest violinist to join the Kirkwood Symphony Orchestra. Since then, he has won numerous fiddle contests in Missouri and Illinois and works occasionally as a studio musician. Julia Dill plays harmonica and guitar and sings lead and harmony. She grew up playing harmonica and guitar and singing with her family and church. Her father and paternal grandfather were also harmonica players, and she says her mom and grandparents made singing a part of everyday life. The couple performs regularly throughout the region with their five-piece band Sweetwater Holler. They will appear as their acoustic duo at the Mountain Music Festival this May. 
THE PUNCHES
The Punches is a bluegrass gospel group who make their home in the foothills of the Ozark Mountains.  Mom, Dad & four children all play instruments, sing, and have been performing nationwide at churches, festivals, fairs and special events since 2009. They've been featured on Great American Gospel (a weekly television show) in many countries and on over 200 stations across America.  Bruce and Bobette currently reside in Fredericktown, Missouri. Bobette was raised in a musical family of seven kids while Bruce grew up an only child and started playing at the age of 13. When they met, it seemed to be a natural fit and the rest is history.
Their son, Owen plays a Gibson RB-250 banjo. He also is a valuable part of the vocal blend of the family holding down a few lead parts but mostly singing the bass line in the quartets.  Emily (one of the twins) started playing fiddle at age 7. Emily has developed a rich voice and a sweet demeanor on stage and carries many of the high tenor parts in trios and quartets. She also sings much of the lead with the group. The other half of the duo is Brooke. Brooke also started on the fiddle at age 7. In fact some of the early Great American Gospel videos have Brooke on the   fiddle before she moved to the dobro.
Every Friday night, May – October
Friday night kicks off the Arcadia Valley Mountain Music Festival with Pickin' on the Square. Amateur musicians join professionals to perform everything from bluegrass to gospel to Cajun. Bring your guitar, fiddle or banjo and join in.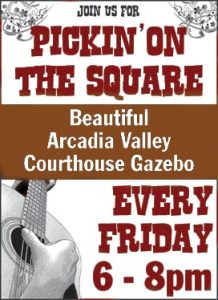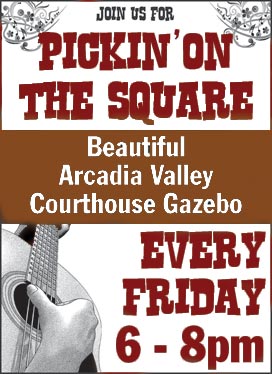 Clapping, dancing, singing along – crowds gather to enjoy the tunes of musicians at Pickin' on the Square on the courthouse lawn every Friday night through the summer. It starts with the Spring Mountain Music Festival, May 21-22 and ends with the Fall Mountain Music Festival, October 15-16. On banjo, harmonica, dobro, bass, fiddle and guitar, musicians from as far as 60 miles away gather to perform rockabilly, country ballads, gospel and original compositions.
Anyone is welcome to come up to the microphone and sing. Some Fridays have guest appearances by experienced vocalists or by a very young one who wants to make their professional debut.
Expect to see our regulars at Pickin' on the Square: Tony Harbison, Jimmy Randolph, Kevin Province, Kevin Pewitt, Phil Wadlow, Mike Keith, "Leftie" Lowell Reeves, Eric Thompson, Bobby Powell, Taylor Price, Wayne Taylor, Preston and Connie Browers, Mark Browers, Frank Hinson, Kenny Albert, Merlin Grigsby, Calvin Jones and many, many others.
For more information, contact Tony Harbison by phone at 573-546-3877 or by email at [email protected].
FESTIVAL LOCATION
    IRON COUNTY COURTHOUSE      250 S. MAIN, IRONTON MO
---
PICKIN' ON THE SQUARE




and




MOUNTAIN MUSIC FESTIVAL SPONSORS
We thank everyone for their Sponsorship of the Mountain Music Festival & Pickin' on the Square every Friday evening during the season.  Click logos to visit the platinum sponsors who are supporting our community!
PLATINUM SPONSORS