The Rising Son

The Punches

George Portz & Friends of Bluegrass
2021 Fall Mountain Music Festival
Join us for our Arcadia Valley Mountain Music Festival held every May and October!  We are conveniently located only 80 miles from St. Louis in the outdoor recreation capital of Missouri's beautiful Arcadia Valley.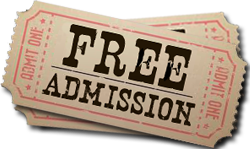 Admission is FREE for these wonderful family events!  Activities center around the historic Iron County Courthouse Square on Main Street in Ironton.
You'll find a variety of Music, Music, Music everywhere you turn!   Be sure to make your lodging reservations early! Check out camping opportunities as well.  
So, if you're looking for Missouri bluegrass festivals and old time mountain and Americana music, make your plans now to attend our Arcadia Valley Mountain Music Festivals this year.
This year's Fall Mountain Music Festival features two great days of music. We are also adding different genres of music which will include street dances on Friday and Saturday evenings.
Both in Spring and Fall you'll enjoy Vendors, Crafters and

              activities for the kids!  There'll be an area set up for pickers,            so be sure to bring your instruments!    
Friday Night – October 15th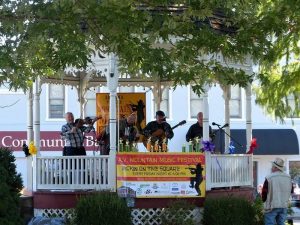 6:00 PM – Pickers at the Gazebo & around the Courthouse                                                             8:00 PM – Street Dance with Quinton Vance & Acoustic Amigos
Saturday – October 16th
9:30 AM – Music in the Gazebo                                  10:30 AM – AVHS Fall Festival Parade                      11:00 AM – "Fiddle Contest" with George Portz & Friends of Bluegrass
1:30 PM – The Rising Son                                            3:30 PM – Logan Creek Band                              5:30 PM – The Punches "50s & 60s Show"                7:30 PM – Street Dance with Don Joy & Melanie Lynn with the Red Light Band
Come and experience the best Fall Music Festival in Missouri!
2021 Fall Festival Music Groups
GEORGE PORTZ & FRIENDS OF BLUEGRASS
George Portz & The Friends of Bluegrass, founded in 1978, blends its fiery Bluegrass roots with traditional Irish and Louisiana Cajun music.  The band is based in southern Illinois and includes members from Illinois and Missouri.  The band performs dozens of shows a year throughout southwest Illinois and eastern Missouri.  A typical set contains bluegrass, traditional country, bayou/Cajun, and Gospel music that entertains audiences of all ages.  In addition, the band hosts various fiddle contests each year.
Band Members:  George Portz, Ranger Dave Montgomery, David Dalton, Zach Hardesty, Kathie Pohlman, and special guest singer Brenda Cook.
THE RISING SON
Rising son was formed in 2016 when five good friends from Southeast Missouri decided to use the talent God gave them to spread his word through music.  They have a well blended combination of Bluegrass and Gospel music.  They are blessed with five lead singers, which gives them a broad spectrum of sound.
Members of the group are Junior Harmon, Guitar; Mark Hopkins, Banjo; Don Goff, Dobro; Rusty Hamilton, Mandolin and Freddie Wilferth, Bass.
LOGAN CREEK BAND
Logan Creek Band was formed in May 1979 by Randy Buxton and Kenny Albert in Ellington, Missouri.  In the beginning, the duo performed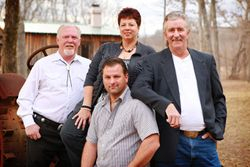 every weekend at Webb Creek Lounge using anyone they could find in the campground that could tap a beat with their foot to fill in on the drums.  The present group consists of Randy Buxton, Kenny Albert, Tammy and Denny Tucker.
They have performed with Dan Seals, Gene Watson, Michael Tweety, Pirates of the Mississippi, Charlie McClain, Faron Young, Jimmy Houston and other artists in the country music industry.  Along with the artists they have performed with, they have performed at many local community functions, St. Jude benefits and National Televised Jerry Lewis Telethon where they performed as the featured band during the 24-hour marathon.  Randy Buxton, also performed for the Ozark Mountain Hoe Down for seven years in Eureka Springs, Arkansas.
THE PUNCHES
The Punches is a bluegrass gospel group who make their home in the foothills of the Ozark Mountains.  Mom, Dad & four children all play instruments, sing, and have been performing nationwide at churches, festivals, fairs and special events since 2009. They've been featured on Great American Gospel (a weekly television show) in many countries and on over 200 stations across America.  Bruce and Bobette currently reside in Fredericktown, Missouri. Bobette was raised in a musical family of seven kids while Bruce grew up an only child and started playing at the age of 13. When they met, it seemed to be a natural fit and the rest is history.
Their son, Owen plays a Gibson RB-250 banjo. He also is a valuable part of the vocal blend of the family holding down a few lead parts but mostly singing the bass line in the quartets.  Emily (one of the twins) started playing fiddle at age 7. Emily has developed a rich voice and a sweet demeanor on stage and carries many of the high tenor parts in trios and quartets. She also sings much of the lead with the group. The other half of the duo is Brooke. Brooke also started on the fiddle at age 7. In fact some of the early Great American Gospel videos have Brooke on the   fiddle before she moved to the dobro.
DON JOY & MELANIE LYNN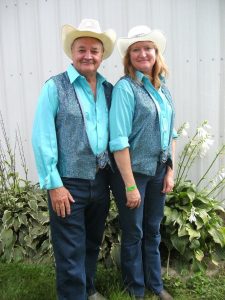 Don is a singer and songwriter, of traditional country music and started writing at the age 17. Don began singing at age 10. As he grew older, he began singing in various bars and clubs. A life time of music has taken him to such places as Las Vegas MGM; USA World Show Case; Ellis Island Casino; Marina Towers; Country Jubilee and various Opry Shows and venues. He has recorded 15 Cd's and we have 9 duet Cd's.
Melanie started singing at a very young age and has been singing in church. She has been singing in public at various venues for several years before teaming up with Don. She grew up with traditional country music, a lifelong dream of pursuing a career in this industry.
We have been performing together since 2012 and have performed in numerous places in Missouri, Arkansas, Nashville, Iowa, South Dakota, Ohio, Indiana, Illinois, Kansas, Nebraska, Minnesota, Oklahoma and Kentucky. We stand true to our country roots and the traditional country sound, light bluegrass, gospel, 50's rock and Irish.
THE RED LIGHT BAND
Originated in 1970s by Dennis Worley.  Dennis, a native of Poplar Bluff started playing gospel music 50 years ago with his two sisters; they were known as the "Worley Trio". Dennis has played for Narvel Felts, Leona Williams and numerous other artists. Dennis plays lead guitar and vocalist.
Steve Wilkerson started 50 years ago with his dad and family, as a family gospel group. He left and went to Branson and worked in theaters, played and toured with Roy Clark. He played steel on the Hee Haw Show. He left in 1989 and went to Nashville with Charlie Louvin. He played 12 years on the Grand Ole Opry, has played steel and dobro for the Whites and Ricky Skaggs for 9 ½ years. Steve played for Mickey Gilley, Johnny Lee and numerous other entertainers. Steve plays steel, dobro, lead, bass, mandolin and vocals. Steve's wife Debbie is also background vocals. Debbie worked 11 ½ years for Charlie Louvin and on the Opry.
Steve Albritten, native of Southeast Missouri, played bass for 35 years. He has played for many gospel groups, toured with the Nashville recording artists "Southern Brothers".
Steve Wilkerson, Jr. plays drums and vocalist. He is a Nashville studio musician. He played for Narvel Felts, Leona Williams and Charlie Louvin. He was a drummer for the Carolina Opry in Myrtle Beach, SC. Steve is married to Dani Haggard, grand-daughter of Merle Haggard.
Terry Davis has played keyboard for 40 years. He's a native of Southeast Missouri. He played for the "Changed Heart" gospel group. Terry also sings.
Every Friday night, May – October
Friday night kicks off the Arcadia Valley Mountain Music Festival with Pickin' on the Square. Amateur musicians join professionals to perform everything from bluegrass to gospel to Cajun. Bring your guitar, fiddle or banjo and join in.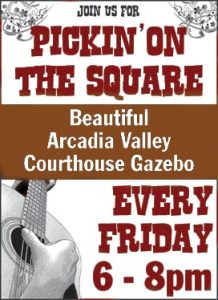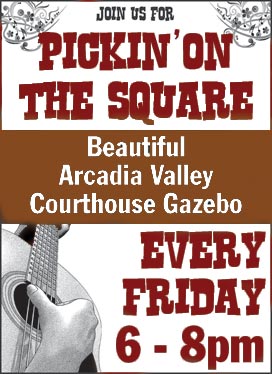 Clapping, dancing, singing along – crowds gather to enjoy the tunes of musicians at Pickin' on the Square on the courthouse lawn every Friday night through the summer. It starts with the Spring Mountain Music Festival, May 21-22 and ends with the Fall Mountain Music Festival, October 15-16. On banjo, harmonica, dobro, bass, fiddle and guitar, musicians from as far as 60 miles away gather to perform rockabilly, country ballads, gospel and original compositions.
Anyone is welcome to come up to the microphone and sing. Some Fridays have guest appearances by experienced vocalists or by a very young one who wants to make their professional debut.
Expect to see our regulars at Pickin' on the Square: Tony Harbison, Jimmy Randolph, Kevin Province, Kevin Pewitt, Phil Wadlow, Mike Keith, "Leftie" Lowell Reeves, Eric Thompson, Bobby Powell, Taylor Price, Wayne Taylor, Preston and Connie Browers, Mark Browers, Frank Hinson, Kenny Albert, Merlin Grigsby, Calvin Jones and many, many others.
For more information, contact Tony Harbison by phone at 573-546-3877 or by email at [email protected].
FESTIVAL LOCATION
    IRON COUNTY COURTHOUSE      250 S. MAIN, IRONTON MO
---
PICKIN' ON THE SQUARE




and




MOUNTAIN MUSIC FESTIVAL SPONSORS
We thank everyone for their Sponsorship of the Mountain Music Festival & Pickin' on the Square every Friday evening during the season.  Click logos to visit the platinum sponsors who are supporting our community!
PLATINUM SPONSORS