2020 Fall Mountain Music Festival
Join us for our Arcadia Valley Mountain Music Festival held every May and October!  We are conveniently located only 80 miles from St. Louis in the outdoor recreation capital of Missouri's beautiful Arcadia Valley.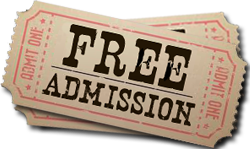 Admission is FREE for these wonderful family events!  Activities center around the historic Iron County Courthouse Square on Main Street in Ironton.
You'll find a variety of Music, Music, Music everywhere you turn!   Be sure to make your lodging reservations early! Check out camping opportunities as well.  
So, if you're looking for Missouri bluegrass festivals and old time mountain and Americana music, make your plans now to attend our Arcadia Valley Mountain Music Festivals this year.

This year's Fall Mountain Music Festival features two great days of music. We are also adding different genres of music which will include street dances on Friday and Saturday evenings.
Both in Spring and Fall you'll enjoy Vendors, Crafters and activities for the kids!  There'll be an area set up for pickers, so be sure to bring your instruments! 
Come and experience the best Fall Music Festival in Missouri!
2020 Fall Festival Music Groups
Schedule of Events
Friday Night – October 16th 
6:00 PM Pickers at the Gazebo & around the Courthouse Square
8:00 – 10:00 PM 

"DAWSON HOLLOW"
Saturday – October 17th 
9:30 AM Ozark Mountain Harmony
11:00 AM 

"Fiddle Contest"

with George Portz & Friends of Bluegrass
1:30 PM The Rising Son
3:30 PM Po'Anna
5:30 PM BTR
8:00 – 10:00 PM  "HAND PICKED YOUTH BLUEGRASS BAND"
---
Check out our…
Food and craft vendors
Artisan demonstrators
Special areas for "Pickers"
Art Exhibition by Tangleworks
Family Fun Area for Kids
Corn Hole Tournament by Farm Bureau
Shepherd Mountain Bike Park exhibition
DAWSON HOLLOW
Dawson Hollow is a home and a memory. The place where five siblings shared youthful experiences of scuffed knees, climbing trees, dreaming dreams, and falling in love with music… 

Today, Dawson Hollow lives on as an indie-folk band whose music encompasses the nostalgia of folk while channeling the urgent and intoxicating energy of indie-rock. Their unique and invigorating music brings alive a contagious passion that is too powerful to be ignored and leaves listeners energized, refreshed and feeling like they've finally met someone who "gets" them.
OZARK MOUNTAIN HARMONY
Group members all live in or around the Ironton and Fredericktown, Missouri areas. When they originally started singing, they went by the name of Southern Grass. They have now updated their group name to Ozark Mountain Harmony. The name became their choice as they felt it better represented their beautiful home surroundings which they are very proud of.  They have a variety of members which allows them to do music that appeals to just about everyone at every show.  Members of the group are Erica Hovis, Brad and Lisa Crocker, David Hovis, Chris McCarver and Machele Tyndall.
https://www.facebook.com/ozarkmountainharmony
PO' ANNA BLUEGRASS BAND
Emalee Flatness is a founding member of the Po' Anna Bluegrass Band and started playing bluegrass at age ten. She loves playing fiddle and singing lead and harmony. She has written several original songs. Becca Ash comes from a long line of bluegrass musicians and continues the tradition through her fantastic musicianship. She plays the mandolin along with singing lead and harmony. She also plays nearly every bluegrass instrument. 
Justus Ross started playing guitar at age six. He plays lead guitar in addition to singing lead. He also plays with his family band, The Ross Family. Joey Shann has been picking banjo since the age of 14 and also plays the dobro. He sings both harmonies and lead for Po' Anna as well as performing with The Baker Family
RISING SON
Rising son was formed in 2016 when five good friends from Southeast Missouri decided to use the talent God gave them to spread his word through music. They have a well-blended combination of Bluegrass and Gospel music. They are blessed with five lead singers, which gives them a broad spectrum of sound.

Members of the group are Junior Harmon, Guitar; Mark Hopkins, Banjo; Don Goff, Dobro; Rusty Hamilton, Mandolin and Freddie Wilferth, Bass.
https://www.facebook.com/pg/Rising-Son-433887343483470/
B T R
Eric Thompson, Bo Riddle and Mark Browers bring '70s Americana to life. Their voices and instruments blend together to give a unique music experience that brings the nostalgia of '70s folk rock, adds creativity to the familiar, and gives an entertaining performance everyone can enjoy.

Bo plays the fiddle and guitar and is known for his musical work in Nashville's recording studios and as master boot-maker to the stars.  Eric is considered a rising star in the harmonica world.  He is an Arcadia Valley resident and high school teacher and currently plays with several other groups.  Mark started playing guitar at age 14. He has been influenced by a broad range of artists such as John Denver, Gordon Lightfoot to rock groups such as the Eagles and Marshall Tucker. He has enjoyed the opportunity to play music with many accomplished artists in the area since 1990.
HAND PICKED YOUTH BLUEGRASS BAND
Hand Picked Youth Bluegrass Band, a young high energy Bluegrass band, will perform Saturday evening at 8 p.m.  This group is 'handpicked' by their instructor, Chris Talley (owner of the Bluegrass Shack, New Athens, IL)
Members of the band include:  Ryder Watson. age 13, who lives in Benton, Il and plays banjo in the band.  Lucas Foster, age 14, resides in Freeburg, Il and plays guitar.  Audrey Neel, age 16, resides in Hillsboro, MO and plays the fiddle and provides lead and harmony vocals in the band.  Audrey also plays the mandolin and guitar.  Emily Causey, age 18, resides in New Athens, IL and plays the mandolin and provides lead and harmony vocals in the band.  Emily also plays fiddle and guitar
Chris Talley – New Athens, IL, is the band director and will play the bass and provide harmony for the band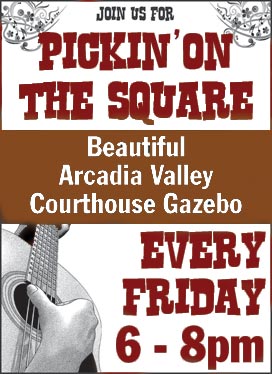 Every Friday night, May – October
Friday night kicks off the Arcadia Valley Mountain Music Festival with Pickin' on the Square. Amateur musicians join professionals to perform everything from bluegrass to gospel to Cajun. Bring your guitar, fiddle or banjo and join in.
Clapping, dancing, singing along – crowds gather to enjoy the tunes of musicians at Pickin' on the Square on the courthouse lawn every Friday night through the summer. It starts with the Spring Mountain Music Festival, May 15-16 and ends with the Fall Mountain Music Festival, October 16-17. On banjo, harmonica, dobro, bass, fiddle and guitar, musicians from as far as 60 miles away gather to perform rockabilly, country ballads, gospel and original compositions.
Anyone is welcome to come up to the microphone and sing. Some Fridays have guest appearances by experienced vocalists or by a very young one who wants to make their professional debut.
Expect to see our regulars at Pickin' on the Square: Tony Harbison, Jimmy Randolph, Kevin Province, Kevin Pewitt, Phil Wadlow, Mike Keith, "Leftie" Lowell Reeves, Eric Thompson, Bobby Powell, Taylor Price, Wayne Taylor, Preston and Connie Browers, Mark Browers, Frank Hinson, Kenny Albert, Merlin Grigsby, Calvin Jones and many, many others.
For more information, contact Tony Harbison by phone at 
573-546-3877 or by email at [email protected].
---
Check out our photos from previous Mountain Music Festivals
PICKIN' ON THE SQUARE
and
MOUNTAIN MUSIC FESTIVAL SPONSORS
We thank everyone for their Sponsorship of the Mountain Music Festival & Pickin' on the Square every Friday evening during the season.  Click logos to visit the platinum sponsors who are supporting our community!
PLATINUM SPONSORS


GOLD SPONSORS