SCHEDULE OF EVENTS
Friday Night – May 15th
6:00 PM Pickers at the Gazebo & around the Courthouse Square
8:00 PM – 10:00 PM 

Rock'n Roll Street Dance with "The Localistas"
Saturday – May 16th
10:00 AM Ozark Mountain Harmony
Noon  The Rising Son
2:00 PM Po' Anna Bluegrass Band
3:30 PM Dog Show – Winner Parade
4:00 PM Ol' Dawgs
6:00 PM BTR
8:00 – 10:30 PM

Headliner Band and Dance with "Two Lane Highway"
---
Check out our…
"Family Activity Area"
Special areas for "Pickers"
Iron County 4H Dog Show
Artisan demonstrators
Food and craft vendors
2020 Spring Mountain Music Festival
Join us for our Arcadia Valley Mountain Music Festival now held every May and October!  We are conveniently located only 80 miles from St. Louis in the outdoor recreation capital of Missouri's Arcadia Valley and Black River Recreation Area.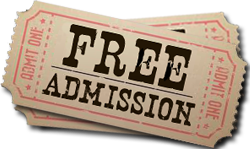 Admission is FREE for these wonderful family events!  Activities center around the historic Iron County Courthouse square on Main Street in Ironton in the beautiful Arcadia Valley.
You'll find old time Music, Music, Music everywhere you turn!   Be sure to make your lodging reservations early! Check out camping opportunities as well.  
So, if you're looking for Missouri bluegrass festivals and old time mountain and Americana music, make your plans now to attend our Arcadia Valley Mountain Music Festivals this year.

This year's Spring Mountain Music Festival features two great days of music. We are also adding different genres of music which will include rock & roll bands and street dances on Friday and Saturday evenings.
Both in Spring and Fall you'll enjoy Vendors, Crafters and activities for the kids!  There'll be an area set up for pickers, so be sure to bring your instruments! 
Come and experience the best Spring music festival in Missouri!
2020 SPRING FESTIVAL LINEUP
2020 SPRING FESTIVAL MUSIC GROUPS
OZARK MOUNTAIN HARMONY
Our group members all live in or around the Ironton and Fredericktown, Missouri areas. When we originally started singing, we went by the name of Southern Grass. Recently, we decided to update our group name to Ozark Mountain Harmony. The name became our choice as we felt it better represents our beautiful home surroundings which we are proud to represent no matter where the road may take us. We have a variety of members which allows us to do music that appeals to just about everyone at every show. We are always looking to meet new people and share some good times and good music together. Members of the group are Erica Crocker, Brad and Lisa Crocker, David Hovis, Chris McCarver and Machele Tyndall.
https://www.facebook.com/ozarkmountainharmony
PO' ANNA BLUEGRASS BAND
Emalee Flatness is a founding member of the Po' Anna Bluegrass Band and started playing bluegrass at age ten. She loves playing fiddle and singing lead and harmony. She has written several original songs. Becca Ash comes from a long line of bluegrass musicians and continues the tradition through her fantastic musicianship. She plays the mandolin along with singing lead and harmony. She also plays nearly every bluegrass instrument. When she is not playing with Po' Anna, she plays with her family band, Darby Hollow.
Justus Ross started playing guitar at age six. He plays lead guitar in addition to singing lead. He also plays with his family band, The Ross Family. Joey Shann has been picking banjo since the age of 14 and also plays the dobro. He also sings both harmonies and lead for Po' Anna as well as performing with The Baker Family
RISING SON
Rising son was formed in 2016 when five good friends from Southeast Missouri decided to use the talent God gave them to spread his word through music. They have a well-blended combination of Bluegrass and Gospel music. They are blessed with five lead singers, which gives them a broad spectrum of sound.

Members of the group are Junior Harmon, Guitar; Mark Hopkins, Banjo; Don Goff, Dobro; Rusty Hamilton, Mandolin and Freddie Wilferth, Bass.
https://www.facebook.com/pg/Rising-Son-433887343483470/
TWO LANE HIGHWAY
Two Lane Highway was formed in the late 80″s early 90″s as a country and rock band founded by Willy, Tim, Beez, Randy Walton and Ricky Reed in Ironton MO and played the area for a few years, had a great time and some good success.  After some life changes, careers changes and the tragic car accident that took the life of founding member, our brother Randy, we all kind of went different directions.  Then in late 2014, the bass player's daughter started asking about a reunion to play at her wedding in June, 2015.
Three of the four remaining founding members, Ricky unable to due to health reasons, started putting the puzzle together again as a Classic Rock Band.  After trying different puzzle pieces, we are happy to add the Wild Man from Wappapello, Roy Ward, to complete the puzzle.  Three part harmonies – High Energy Rock!!
https://www.facebook.com/2lanehighway/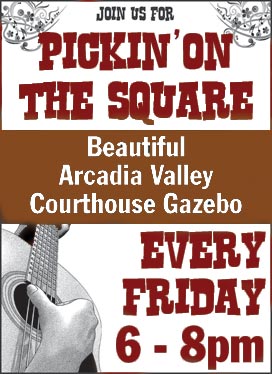 Every Friday night, May – October
Friday night kicks off the Arcadia Valley Mountain Music Festival with Pickin' on the Square. Amateur musicians join professionals to perform everything from bluegrass to gospel to Cajun. Bring your guitar, fiddle or banjo and join in.
Clapping, dancing, singing along – crowds gather to enjoy the tunes of musicians at Pickin' on the Square on the courthouse lawn every Friday night through the summer. It starts with the Spring Mountain Music Festival, May 15-16 and ends with the Fall Mountain Music Festival, October 16-17. On banjo, harmonica, dobro, bass, fiddle and guitar, musicians from as far as 60 miles away gather to perform rockabilly, country ballads, gospel and original compositions.
Anyone is welcome to come up to the microphone and sing. Some Fridays have guest appearances by experienced vocalists or by a very young one who wants to make their professional debut.
Expect to see our regulars at Pickin' on the Square: Tony Harbison, Jimmy Randolph, Kevin Province, Kevin Pewitt, Phil Wadlow, Mike Keith, "Leftie" Lowell Reeves, Eric Thompson, Bobby Powell, Taylor Price, Wayne Taylor, Preston and Connie Browers, Mark Browers, Frank Hinson, Kenny Albert, Merlin Grigsby, Calvin Jones and many, many others.
For more information, contact Tony Harbison by phone at 
573-546-3877 or by email at carol.avchamber@yahoo.com.
---
Check out our photos from the 2018 Fall Mountain Music Festival
PICKIN' ON THE SQUARE
and
MOUNTAIN MUSIC FESTIVAL SPONSORS
We thank everyone for their Sponsorship of the Mountain Music Festival & Pickin' on the Square every Friday evening during the season.  Click logos to visit the platinum sponsors who are supporting our community!
PLATINUM SPONSORS



GOLD SPONSORS