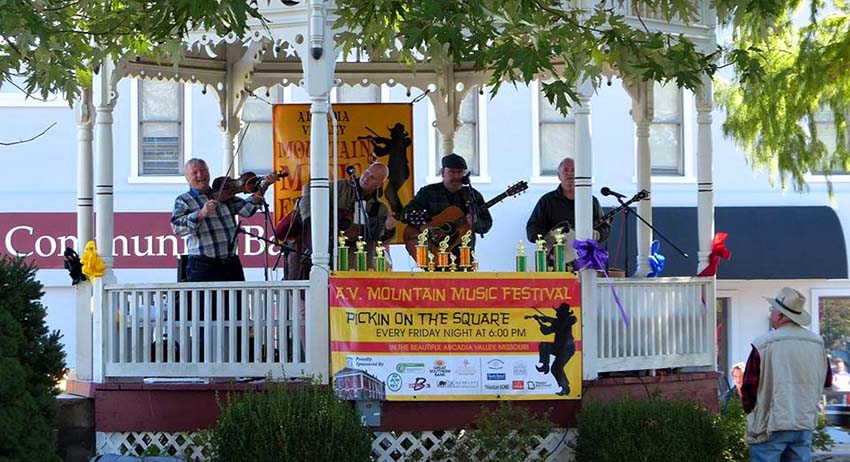 2022 Fall Mountain Music Festival
Join us for the Arcadia Valley Mountain Music Festival held every May and October!  We are conveniently located only 80 miles from St. Louis in the outdoor recreation capital of Missouri's beautiful Arcadia Valley.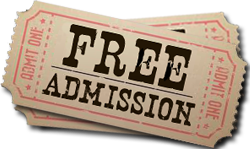 Admission is FREE for these wonderful family events!  Activities center around the historic Iron County Courthouse Square on Main Street in Ironton.
You'll find a variety of Music, Music, Music everywhere you turn!   Be sure to make your lodging reservations early!  Check out camping opportunities as well.  
If you're looking for Missouri bluegrass festivals and old-time mountain and Americana music, make your plans now to attend our Arcadia Valley Mountain Music Festivals.  

Both in Spring and Fall you'll enjoy Vendors, Crafters and activities for the kids!  There'll be an area set up for pickers, so be sure to bring your instruments!  
Come and experience the best Fall Music Festival in Missouri!
Schedule of Events
Friday, October 14, 2022
5:00 PM
Pickers at the gazebo and around the Courthouse
6:30 PM
Five Ton Faces
Saturday, October 15, 2022
10:30 AM
AVHS Fall Festival Parade
11:00AM
"Fiddle Contest" with George Portz
and Friends of Bluegrass
1:30 PM
The Punches
3:30 PM
Dixie Union
5:30 PM
The Baker Family
2022 Fall Festival Music Groups
FIVE TON FACES
Five Ton Faces is a five-piece Roots Rock band that originated in Franklin, Tennessee in 2015; comprised of Nash Hamilton (Guitar and Vocals), Bailey McClendon (Drums and Vocals), Nick Jude (Bass and Vocals), John Shields (Keys and Vocals), and Will Cheatham (Lead Guitar).  Five Ton Faces brings a wall of sound to each live performance.
The band began at the hands of Nash Hamilton, and while the group initially started out with only two members, it quickly garnered its strength with the addition of the full lineup. Five Ton Faces is inspired by many genres of music; Outlaw Country, '60s Rock, and Jazz to name a few. This combination of genres is what gives Five Ton Faces such a dynamic and unique sound. The band members' ingenuity, songwriting talent, and dedication sets them apart from similar aged bands.  Five Ton Faces offer a new and unique sound while delivering a sense of nostalgia reminding the listener of classic southern artists that laid the groundwork for the 'Nashville sound'.
Lead singer Nash Hamilton is the grandson of Grand Ole Opry member and International Ambassador of Country music George Hamilton IV, a history that can be heard within the group's music today. Paying homage to IV, the band at one point recorded their own version of the song Abilene originally performed by Hamilton's grandfather in 1963.
GEORGE PORTZ & FRIENDS OF BLUEGRASS
George Portz & The Friends of Bluegrass, founded in 1978, blends its fiery Bluegrass roots with traditional Irish and Louisiana Cajun music.  The band is based in southern Illinois and includes members from Illinois and Missouri.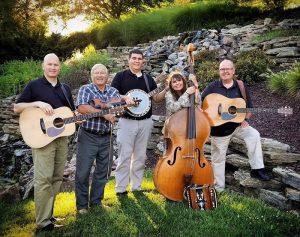 The band performs dozens of shows a year throughout southwest Illinois and eastern Missouri.  A typical set contains bluegrass, traditional country, bayou/Cajun, and Gospel music that entertains audiences of all ages.  in addition, the band hosts various fiddle contests each year.
Band Members:  George Portz, Ranger Dave Montgomery, David Dalton, Zach Hardesty, Kathie Pohlman, and special guest singer Brenda Cook.
THE PUNCHES
The Punches is a bluegrass gospel group who make their home in the foothills of the Ozark Mountains.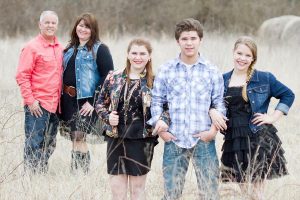 Mom, Dad & four children all play instruments, sing, and have been performing nationwide at churches, festivals, fairs and special events since 2009. They've been featured on Great American Gospel (a weekly television show) in many countries and on over 200 stations across America.  Bruce and Bobette currently reside in Fredericktown, Missouri. Bobette was raised in a musical family of seven kids while Bruce grew up an only child and started playing at the age of 13. When they met, it seemed to be a natural fit and the rest is history.
Their son, Owen plays a Gibson RB-250 banjo. He also is a valuable part of the vocal blend of the family holding down a few lead parts but mostly singing the bass line in the quartets.  Emily (one of the twins) started playing fiddle at age 7. Emily has developed a rich voice and a sweet demeanor on stage and carries many of the high tenor parts in trios and quartets. She also sings much of the lead with the group. The other half of the duo is Brooke. Brooke also started on the fiddle at age 7. In fact, some of the early Great American Gospel videos have Brooke on the fiddle before she moved to the dobro.
DIXIE UNION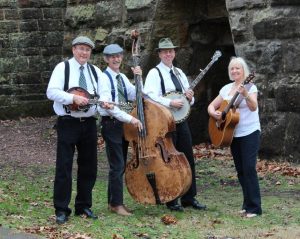 Dixie Union is an award-winning band that was originally formed in 1998 to provide a unique blend of traditional and innovative bluegrass, gospel, blues, ballads, crossover country, and even an occasional polka!
Dixie Union performs at a variety of venues such as bluegrass festivals, benefits, association annual meetings, fairs, microbreweries, wineries, church events, trail rides, picnics, reunions, parties, on radio, and has been designated as "Legends" band at the Missouri State Fair. The band has produced five CD's, one of which was featured in the national publication "SPBGMA Newsletter". Dixie Union's music is available on Spotify, iTunes, Amazon, and more. More information can be found on www.facebook.com/dixieunion.  The group has opened for or shared the stage with such groups as the Nitty Gritty Dirt Band, Ralph Stanley, Kenny & Amanda Smith, and the Chapmans. Their music is influenced by artists ranging from Bill Monroe and Jim & Jesse McReynolds to Hot Rize and Leftover Salmon.
Members of the group include band leader and charter member Dave Richardson on mandolin, tenor harmony, and lead vocals; Carol Richardson on rhythm guitar and lead vocals; John Francis on banjo, lead vocals, and baritone/bass harmonies; and Peter Price on upright bass and baritone harmony.
The Richardsons' fresh spin on interpretation, shaded by Francis' traditional grounding and Price's driving bass, gives the group a sound unique in the bluegrass world. Known for their two, three, and four part harmonies, blend of old and new, and zany on-stage antics, Dixie Union promises to entertain bluegrass fans of all ages.
THE BAKER FAMILY
The Baker Family is a high energy bluegrass band located in south central Missouri.  They perform at bluegrass events throughout the United States from Maine to California.  
They have been seen on:  America's Got Talent – Season 12; RFD-TV's The Bluegrass Trail;  PBS Great American Bluegrass;  2016 Intl. Country Gospel Music Assoc. Bluegrass band of the year; 1st place KSMU Silver Dollar City Youth in Bluegrass Band Champions; 1st place 2014-2017 Oklahoma State Band championship;  SPBGMA Midwest Album of the Year-Walking a Straight Path;  SPBGMA Midwest Entertainers of the Year;  SPBGMA Midwest Mandolin Player of the year – Carina Baker;  SPBGMA Midwest Female Vocalist of the Year – Carina Baker;  SPBGMA Midwest Fiddle Player of the Year – Trustin Baker.
BAND MEMBERS:  Trustin Baker (22 yrs.) Fiddle/Banjo/Lead vocals/Harmony;  Carina Baker (19 yrs.) Mandolin/Lead vocals/Harmony/Jig dancer;  Elijah Baker (17 yrs.) Guitar, Upright Bass;  Carrie;  Upright bass, Guitar)
Every Friday night, May – October
Friday night kicks off the Arcadia Valley Mountain Music Festival with Pickin' on the Square.  Amateur musicians join professionals to perform everything from bluegrass to gospel to Cajun. Bring your guitar, fiddle or banjo and join in.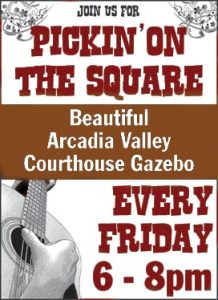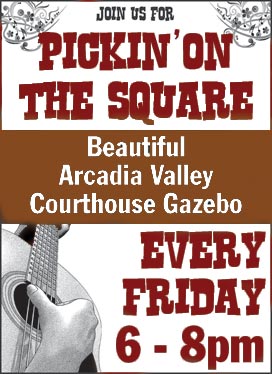 Clapping, dancing, singing along – crowds gather to enjoy the tunes of musicians at Pickin' on the Square on the courthouse lawn every Friday night through the summer.  It starts with the Spring Mountain Music Festival, May 20-21 and ends with the Fall Mountain Music Festival, October 14-15. On banjo, harmonica, dobro, bass, fiddle and guitar, musicians from as far as 60 miles away gather to perform rockabilly, country ballads, gospel and original compositions.
Anyone is welcome to come up to the microphone and sing.  Some Fridays have guest appearances by experienced vocalists or by a very young one who wants to make their professional debut.
Expect to see our regulars at Pickin' on the Square: Tony Harbison, Jimmy Randolph, Kevin Province, Kevin Pewitt, "Leftie" Lowell Reeves, Eric Thompson, Wayne Taylor, Mark Browers, Frank Hinson, Kenny Albert, Calvin Jones, Steve Cox, Terry Terrell and many, many others.
For more information, contact Tony Harbison by phone at 573-546-3877 or by email at [email protected].
FESTIVAL LOCATION
    IRON COUNTY COURTHOUSE      250 S. MAIN, IRONTON MO

PICKIN' ON THE SQUARE




and




MOUNTAIN MUSIC FESTIVAL SPONSORS
We thank everyone for their sponsorship of the Mountain Music Festivals & Pickin' on the Square.  Our Platinum, Gold and Business Boosters help to provide the music for our festivals.  If you would like to be a sponsor, attached you will find an information form.  Logos will be added for Platinum and Gold sponsors and the names of Business Boosters, as they come in.  Click logos to visit the sponsors who are supporting our festivals!
PLATINUM SPONSORS



GOLD SPONSORS


BUSINESS BOOSTERS
     American Family Insurance              Brad Wooten Auto Body               Black River Electric Coop.                 Bryson Funeral Home                      Fort Davidson Hotel                       Green Thumb Plants                                 Iron Dogz                          Kitchell Accounting & Tax                         Services LLC                   Missouri Highlands Health Care    Parkland Health Mart Pharmacy                    The Iron Mule                      Valley Chiropractic Center