The Arcadia Valley Mountain Music Festival
Restaurants, Dining, Antiques, Gifts & Specialty Shops
Weekend Getaways for the Whole Family!
We have dozens of antique shops and collectible and gift shops right here!  Come and shop till you drop.  If you want a vacation where you can shop to your heart's content, come to the Arcadia Valley.
Antique Shops
Boulder Books & Mercantile – Books, antiques, home décor, furniture and collectibles. 109 S. Main, Ironton  573-747-5557
Taum Sauk Traders – Antiques, collectibles and gifts.  You never know what you might find. 146 S. Main, lronton  573-546-3288

Valley Vintage Antique Mall

– A unique variety store filled with antiques, collectibles, clothing and vintage items.  474 S. Main, Ironton 573-546-0599
Gift & Specialty Shops

Allegrees Dollar Spree –  302 N. Main, Ironton  573-432-2220
Arcadia Academy – A variety of unique items.  211 S. College, Arcadia  573-546-4249  www.arcadiavalleyacademy.com
Arcadia Sporting Goods – A great selection of all your outdoor needs. Hwy 21 & 72, Arcadia  573-546-7616. Open seven days a week.  www.arcadiasportinggoods.com

Arcadia Valley Soap Co.

– Purveyors of handcrafted artisan soaps. 112 S. Main, Ironton  573-546-7627  http://store.mosoap.com   www.botanicalearth.com

Auto Tire & Parts

(NAPA)

– 536 N. Main, Ironton  573-546-2312

CVS Pharmacy

– 124 W. Russell, Ironton  573-546-0421

Diamonds & More Jewelers

– Jewelry, diamonds, gifts and more.  Jewelry repair. 419 W. Karsch, Farmington  573-747-0088
Wampler Monuments – Sand blasting & etching monuments, vases and other granite items.  2414 County Road 96, Graniteville  573-546-3636
Fisher Furniture – Fine furniture and appliances at great prices. 1400 N. Hwy 21, Ironton  573-546-6111      
Granite Products – Unique creations for home, garden and gifts crafted from the area's famous beautiful Missouri Red Granite.  7959 Hwy 21, Graniteville  573-546-2200
Green Thumb Plants – Large variety of plants.  Greenhouse next to Ruble's Meat Market, Hwy 21 S. of Arcadia  573-546-2680 / 573-701-6509

Josten's

– Scholastic products.  322 N. Main, Ironton  573-546-7366
Lost Cove on the Square –  Specialty items; coffee, tea, olive oils. 102 W. Russell, Ironton  573-366-7779
Nessa's Boutique – 115 S. Main, Ironton  573-330-1050
Parkland Health Mart Pharmacy – 1500 N. Hwy 21, Ironton (next to Fisher Furniture)  573-546-6000  www.parklandrx.com
Reeves Lumber – Hardware and  building materials.  202 N. McCune, Pilot Knob  573-546-7465
The Country Bouquet – A mix of gifts, candles, home accents, and antiques. Plus original fresh & silk floral arrangements.  103 N. Main,  Ironton  573-546-5056

The Feed Store

– Feed, fencing, farm and pet supplies.  Stihl products with full service department.  305 N. Hwy 21, Pilot Knob  573-546-1607

Walgreens

– Your hometown pharmacy and one-stop shop for all your healthcare needs!  605 N. Main, Ironton   573-546-7915 
Arcadia Valley Area Dining and Restaurants Guide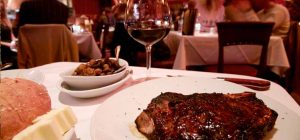 Everything from fine dining to casual fare is available in the Arcadia Valley and Black River Recreation Area.